Boston School of Modern Languages-OVER VIEW
Fast Facts
Tuition
$1,000—$5,000 Session
Type of School
Intensive English Program
Student Body Gender
Co-ed
Religious Affiliation
No Affiliation
Scholarships for International Students
Yes
Conditional Admission Available
Yes
Top Programs
Summer Intensive English, English for Academic Purposes, Intensive English
Accreditation and Certification
ACCET Accredited, EnglishUSA Member
Type of Housing
Homestay, Apartment, Dormitory
Overview
BSML Has What You Need.
Unmatched Experience
Boston School of Modern Languages (BSML) offers year-round intensive and semi-intensive English language programs.
We are America's first and most respected English Language School. Since 1925, we have educated thousands of students and professionals from all over the world. We are the school of choice for professionals and students who are seeking a Pathway program to transition to an American high school, college, or university.
BSML has an outstanding reputation and a significant number of our students come to us by word of mouth. We are unique in offering our students an educational and cultural experience not found in other English language schools and programs. We take pride in maintaining lasting relationships with our students and have welcomed second, third, and fourth generations of the families of our alumni to study with us. Our motto is "English! Learn it, live it, LOVE it… at BSML!"
Amazing Campus and Convenient Location
Our beautiful campus is in a historic, well-maintained granite stone building located in a safe, clean, and friendly neighborhood of Boston, just minutes from the city's most important locations. The area has been designated "Hometown U.S.A." because of the small-town atmosphere and its typical American lifestyle.
It is the ideal place to learn English and be immersed in American culture. BSML's campus is conveniently located within walking distance of all our BSML specially selected American families and student apartments.
BSML is just minutes from:
Homestay and Students apartment: 10 – 25 minutes
Back Bay and Copley Square: 9 minutes
Logan Airport: 28 minutes
Harvard University: 24 minutes
MIT: 20 minutes
Downtown Crossing: 21 minutes
Our campus offers the following facilities to make your stay more productive and enjoyable:
24 Classrooms
Customized books and materials
Performance Theater
Video Entertainment Room
Cafeteria and Dining Hall. Breakfast and lunch included for BSML-housed students
Computer Lab with state-of-the-art computers
Free Wi-Fi on campus and in all students apartments
Ample student lounge
Nationality Mix
BSML believes that a diverse population, composed of students from all over the world, enhances and facilitates the language-learning experience. To achieve this intercultural and international experience for our students, we strive to balance the nationalities and language groups in our classes, housing, and extra-curricular activities. The pie chart below shows the current nationality mix.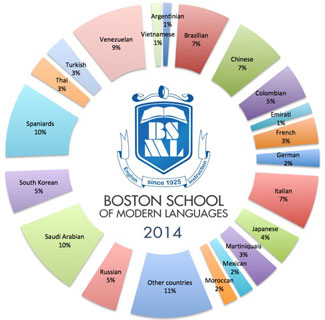 Expert Teachers and Small Classes
Our teachers are university-educated professionals with many years of experience. In addition to being experts in English language instruction, many of our teachers are also experts in other interesting areas, such as law, real estate, fitness and yoga, and politics. Our teachers use our customized instructional books for all 12 learning levels. Small classes mean more individual attention and faster learning.


"When it comes to learning a new language, it's hard to imagine a better way to study abroad than getting involved with its culture. That's why I came to BSML. After a couple of months of being here, I would say that it represents to me a life-changing experience and one of the most rewarding things I have ever done. I am so glad about having chosen this school. I hope to come back someday in the future!"

Rebeca, Mexico
Intensive & Semi-Intensive Programs All Year
Choose intensive instruction five days per week from 9:00 am to 3:00 pm or semi-intensive from 9:00 am to 12:35 pm. We have 12 skill levels in each program. Our precise placement test guarantees that you will study at the level that is perfect for your learning needs.
Exclusive Executive Training
Executives may study in group or private classes or a combination of both. Each private class is developed specifically for the executive's needs. Executives enjoy private classes in a separate area of our campus with a private conference room, private Internet access, and a private kitchen and washroom.
Housing Options for Everyone
We offer more than just dormitories to our students.
American Homestays:
Our American Homestay families are close to the school and will make you feel welcome during your stay. Perfect for younger students or those who want to experience culture in an American household, available to all ages.
Shared Student Apartments:
Our furnished apartments are within walking distance of the school. These apartments are equipped with everything you will need to be comfortable while your English improves. Perfect for students who want some independence.
Fun Activities
Boston offers a wide variety of stimulating and enriching activities. The BSML Student Services Department plans and coordinates regular outings. Every new student is given a complimentary tour of Boston and provided with complete orientation to transportation, entertainment, shopping, dining, social, and cultural events. Additionally, our whale watching trips, cookouts, ski trips, shopping trips, parties, talent shows, and weekly movies will keep you laughing and making friends as you learn American English and culture.
CONTACT US:
814 South Street
Boston MA 02131
P: 617.325.2760